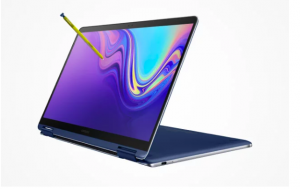 The new Samsung Notebook 9 Pen 2-in-1 PC  device which was revealed by Samsung  features a 13-inch and 15-inch models, and includes an integrated S Pen stylus.
Samsung Company has reconditioned its Notebook 9 Pen line-up with 8th-generation Intel Core i7 processors, fast-charging capabilities, and biometric login options.
The new devices also sport two Thunderbolt 3 ports and support for Gigabit Wi-Fi and with improved design and performance, the new Notebook 9 Pen is perfect for contemporary professionals.
The Notebook 9 Pen will be available in Korea from December 2018, and will expand to the USA in early 2019.
There is currently no pricing available for the devices.
| Notebook 9 Pen | 13-inch | 15-inch |
| --- | --- | --- |
| Display | 13-inch 1,920 x 1,080 LCD | 15-inch 1,920 x 1,080 LCD |
| CPU | Intel 8th-Gen Core i7 | Intel 8th-Gen Core i7 |
| GPU | Intel UHD Graphics | Nvidia GeForce MX150 2GB |
| RAM | 16GB LPDDR3 | 16GB LPDDR3 |
| Storage | 512GB PCIe NVMe SSD | 512GB PCIe NVMe SSD |
| Ports | 2x Thunderbolt 3, 1x USB Type-C, microSD, 3.5mm audio | 2x Thunderbolt 3, 1x USB Type-C, microSD, 3.5mm audio |
| Connectivity | 802.11ac Wi-Fi | 802.11ac Wi-Fi |
| Dimensions | 307.9 X 206.2 X 14.9 mm (1.12kg) | 347.9 X 229.1 X 16.9 mm (1.56kg) |